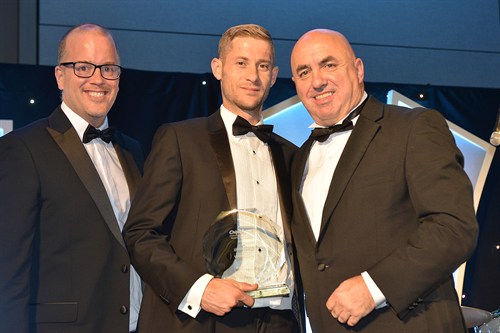 Image Caption: Ryan is pictured middle receiving his award from Chief Executive, Tim Harris on right and Marketing Director, Robin Auld on left
Prior to becoming a ChipsAway franchisee Ryan worked in construction, but he wanted a career that gave him more satisfaction. Prior to becoming a ChipsAway franchisee Ryan worked in construction, but he wanted a career that gave him more satisfaction. Ryan joined the network in 2011, and was named ChipsAway 'Newcomer of the Year 2012' and 'Marketer of the Year 2016' at the ChipsAway Annual Conference and Awards Dinner.
"I had the opportunity to use a spray gun to repaint an old vehicle, and that was when I realised how much I liked the idea of painting, however I was not in a position to go back to college and retrain. I then saw an advert in a newspaper for a ChipsAway franchise, and here I am today!"
When asked what appealed to him most about ChipsAway, Ryan says "A ChipsAway franchise gives you the opportunity to buy into a proven business model which works. This means I could change my career without having to lose earnings."
After attending a four-week training course, and then an additional week course after the first 3 months, Ryan generated estimates worth £10,000 over his launch weekend. Since then, he has opened his own Car Care Centre, and is fully booked for weeks ahead.
"It's almost been too good to be true, my business has come so far so quickly," Ryan confirms. "I'm so proud of the rapid expansion to a Car Care Centre (fixed-base workshop) with a team of technicians handling repairs. Growing with the demand has been the biggest challenge, but with the right employees and experience I have managed to grow around 50% year-on-year."
According to ChipsAway Chief Executive Tim Harris, Ryan is an excellent role model for new franchisees and is a true brand ambassador. "Ryan is hard-working and focused on his customers, that's why he has achieved such strong growth despite some challenging economic times" Tim says. "His thriving business is now increasingly based on repeat custom and word of mouth recommendation, which says everything about the high standard of the ChipsAway service he provides."
So overall, Ryan's life has greatly improved. "I love working for myself!" Ryan says. "For the first time, I now actually enjoy coming to work and I'm financially better off too!"
When asked what advice he would give to prospective franchisees, Ryan reinforced the importance of aiming high and making sure you're doing something you enjoy: "Make sure it's what you will enjoy doing and have a goal in mind – that's the most important thing. There are good times and bad times being a business owner, but don't give up as you will get there!"
If Ryan's story has sparked your interest, come and join us on one of our regular, informal open days, where you can meet the team, experience the exciting ChipsAway system first hand and chat with existing Franchisees. Call 0800 731 6914 or enquire here to book your place.